Advanced Cyber Education @ Louisiana Tech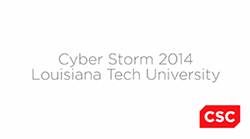 Louisiana Tech University is partnering with global IT leader Computer Sciences Corporation (CSC), Louisiana Economic Development (LED) FastStart, and the Cyber Innovation Center (CIC) in Bossier City to offer a comprehensive suite of cyber-related programs and unique career opportunities right here in north Louisiana that are designed to meet the current and future needs of CSC.
Using its academic and certificate program strengths in areas such as computer science, computer information systems, and cyber engineering, Louisiana Tech will produce graduates with skills that closely align with the needs of CSC while offering graduates unprecedented career opportunities in north Louisiana. The partnership with CSC also seeks to expand the state's knowledge economy by keeping more of its top graduates, from high-tech and high demand fields, working within Louisiana.
ACADEMIC PROGRAMS:
Bachelor's:
Master's:
Doctoral:
Certificates* and Minors:
* Certificates designed for students with prior educational backgrounds/coursework and provide credentials for those working in specific fields and industries.
** Certification in Information Technology provided through College of Engineering and Science and is not a program/certificate of or a credential awarded by Louisiana Tech.

Recent Media:
Interested in getting started? Take the first step to an exciting future by completing an Expression of Interest form or contacting us via email at ace@latech.edu. We'd be happy to send you more information on this partnership with CSC as well as these academic programs.
If you'd like to complete an application for admission to Louisiana Tech University, please contact the Admissions Office at 1-800-LATECH-1 or bulldog@latech.edu, or visit the admissions website.